Don't Panic!
Take a deep breath!
We're here to help!
(Picture examples may differ slightly than your own Dashboard but Main areas will be there)

 How do I Know when to update my Plug Ins & How?
Open your Dashboard. (Your Admin area when you first log in is called 'Dashboard')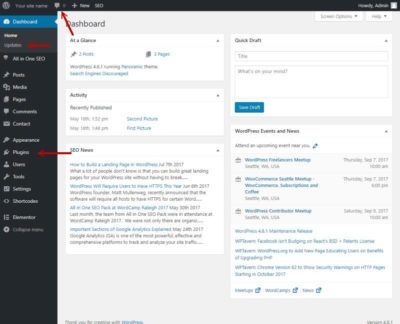 There are 3 places that you will get a notice that you have Plug ins that need updated. (Red Arrows)

2 of those will also let you know when WP needs/has updated and if any Themes in the WP Library need updated.

The Top 2 will take you to the same area and list out everything that needs updated.

Check mark the Select All
Click on Update PlugIn (or Themes, etc)

There are 2 boxes (red rectangles) choose either one.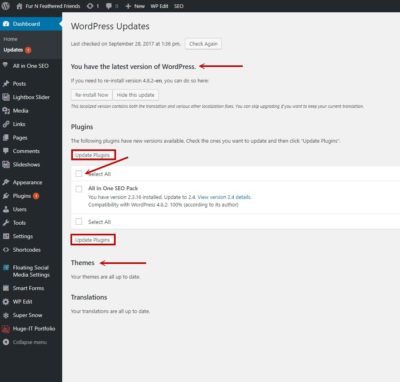 Done!

If you saw that you had more Updates, click on the Return to WordPress Updates Page (red arrow) and repeat process.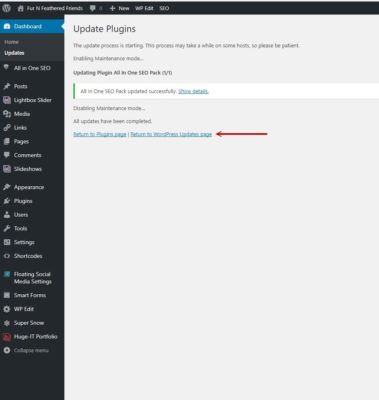 Wait! What about the 3rd Place?

This area labeled Plugins is the 'dashboard' for all the Plug ins that have been upload to your website. You may have different ones based on the needs of your design and some are default when WP is uploaded (kinda like when you get a new phone and some apps are already in there.)
In this area you update each Plug in individually, I highly recommend using the above method!
It doesn't matter if they are being utilized, you still need to update.

PLEASE DO NOT DEACTIVATE ANY PLUG INS THAT I HAVE ACTIVATED FOR YOU!

You can update your Plug ins where it states 'Update Now'. The Plug in will be Green when it is complete.

Repeat process for each Plug In.

Done!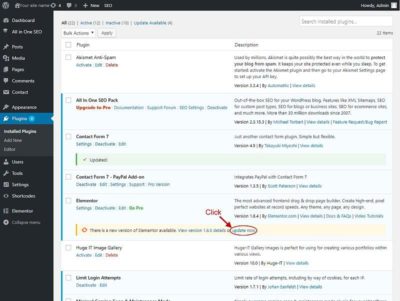 Do I need the Pro version of the Plug Ins listed?
NO, the free versions should generally be enough.
If you're not sure send me an Email and I will help you figure it out.

How do I add a Plug In?
Go to your Plug In Dashboard
Click on Add New
In Search bar on right side, type in the plug in name or the function you are looking for. (I used the Slideshow for example)
Click Install Now
Click Activate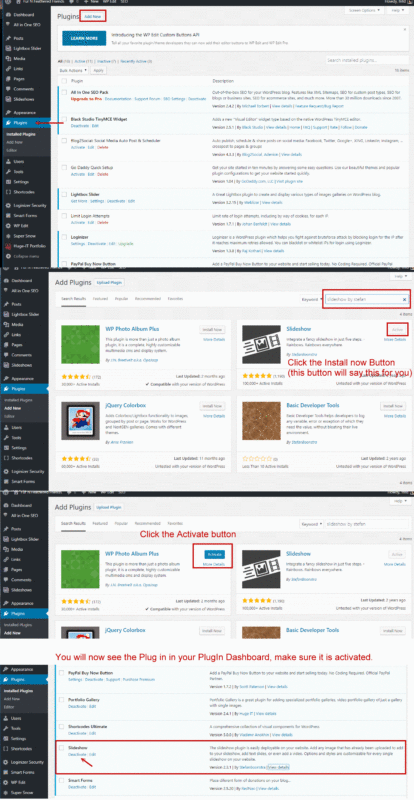 How do I Add/Edit an Image/Gallery to my page?
Click here to download Text File for Creating-Editing Picture Gallery.
Here are some screenshots on how your page will look adding a single pic. (This was created in a Gallery, click on image to enlarge)
Here are screenshots on how your views will be for creating a Gallery. (Some graphics have been whited out, you will not have blank spaces in your media section between pics)

 I want to Create/Add a Slideshow

How do I make a New Page?
Go to your Pages Dashboard
Click on Add New at top
Name your page
Click on Publish
You can now begin to edit your page.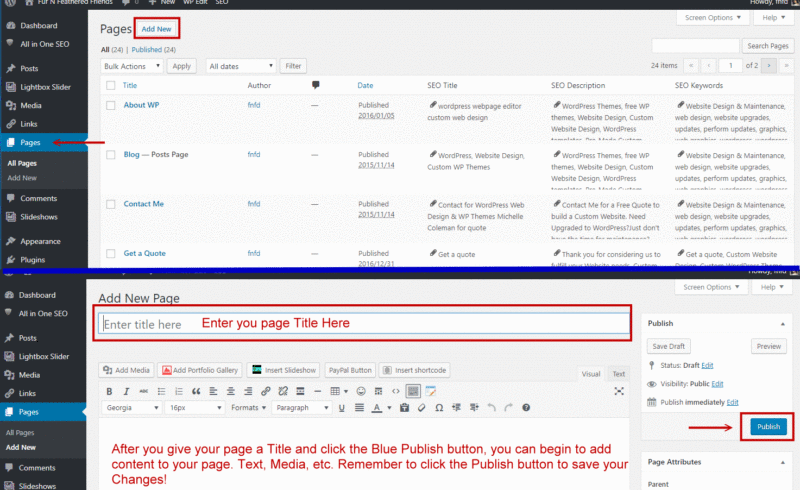 How do I Add/Remove a Page to the Menu?