How do I Know when to update my Plug-Ins & How?
Open your Dashboard. (Your Admin area when you first log in is called 'Dashboard')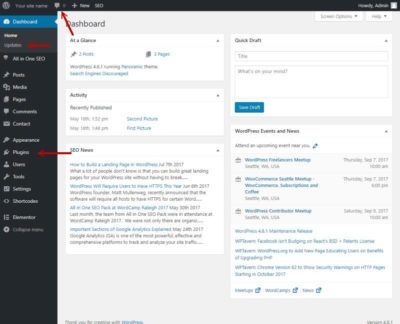 There are 3 places that you will get a notice that you have Plug ins that need updated. (Red Arrows)

2 of those will also let you know when WP needs/has updated and if any Themes in the WP Library need updated.

The Top 2 will take you to the same area and list out everything that needs updated.

Check mark the Select All
Click on Update PlugIn (or Themes, etc)

There are 2 boxes (red rectangles) choose either one.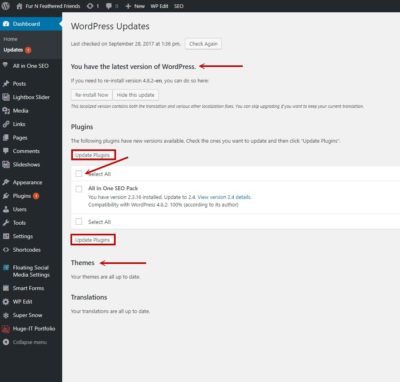 Done!

If you saw that you had more Updates, click on the Return to WordPress Updates Page (red arrow) and repeat process.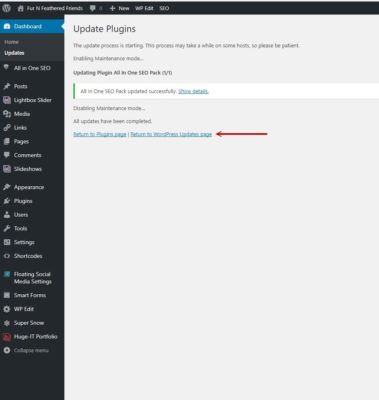 Wait! What about the 3rd Place?

This area labeled Plugins is the 'dashboard' for all the Plug ins that have been upload to your website. You may have different ones based on the needs of your design and some are default when WP is uploaded (kinda like when you get a new phone and some apps are already in there.)
In this area you update each Plug in individually, I highly recommend using the above method!
It doesn't matter if they are being utilized, you still need to update.

PLEASE DO NOT DEACTIVATE ANY PLUG INS THAT I HAVE ACTIVATED FOR YOU!

You can update your Plug ins where it states 'Update Now'. The Plug in will be Green when it is complete.

Repeat process for each Plug In.

Done!