These Pre-Made WordPress Themes are a perfect low cost solution for your personal or commercial use.
Choose a pre-made theme and have it customized to suit your own needs. Pre-made WordPress themes are a great option to consider for your website. We also offer custom wordpress themes made specifically for you. Whether you choose a custom design or a pre-made one, this is the way to go if you would like to do your own updates.  Questions about themes or WordPress, please contact me.
Not familiar with WordPress, I can help with the set up.
You enter your own content or I can enter it for you, just let me know and  I will include in my Quote.
I can also convert your current website over to WordPress, contact me for a quote.
All sets are one of a kind and will only be sold once then retired. Watermarks will be removed upon receipt of purchase price.
Theme installation is included once license fee has been received.
New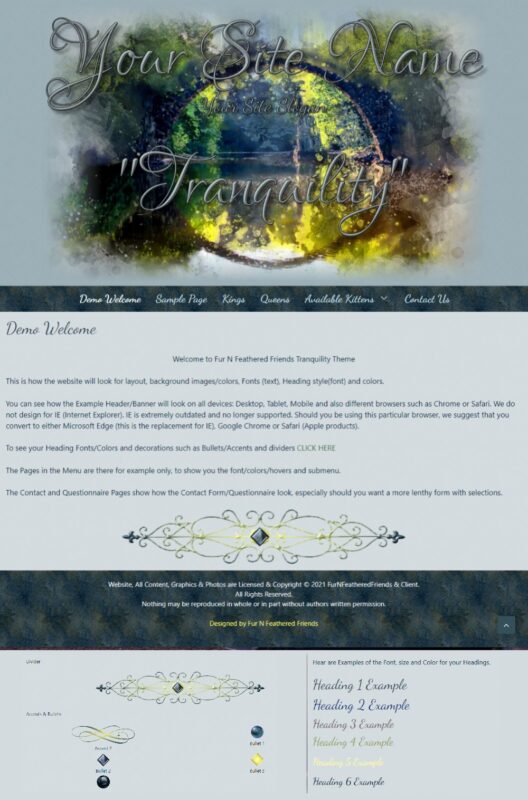 Click on a theme for a larger view, and for full size click the size under the image.
Not sure if you'll have the time to perform your own updates? I can help with that,
for minimal fees I can update your website for you, see my Maintenance Page for further information.
Notes:
Themes are provided 'as is'.
Themes are designed with at least 1 bullet, 1 accent and/or 1 divider, linkback banner and Favicon. Linkback banner is customized with your website name upon receipt of payment and emailed with theme and any other graphics that is designed with the theme.
Any watermarks displayed on examples will be removed upon receipt of payment.